The Phantom's Curse: like on Broadway!
We know NetEnt do beautiful and that branded slots based on movies, TV shows or even real-life people are generally very popular. Fans of the Phantom of the Opera will certainly flock to this slot out of curiosity and they'll be pleased to see such a visually stunning slot with enough features to keep you as interested as if you were watching the show itself on Broadway.
On the downside, two of the three features only ever make rare appearances and bigger hitters may feel this slot can at times be guilty of too much style and not enough substance.
The Phantom's Curse is is a 5 reels and 40 paylines slot from Netent paying both ways.
The Phantom's Curse – Game overview
Five reels and 40 pay lines is somewhat standard for a NetEnt slot and this one boasts an RTP of 96.57%, paying both ways, which is a welcome bonus.
There's a Wild symbol which is the iconic white mask worn by the Phantom himself and can substitute for anything other than the Bonus or the Scatter. That however isn't the only symbol acting as a Wild; the Stacked Bonus symbol (more on that in a bit) also acts as a Wild.
Other than the Phantom and his love interest Christine, the remaining symbols are the Scatter (a beautiful chandelier), the stacked bonus symbol for the Phantom (Reel 1 only), stacked Christine bonus symbol (Reel 5 only) and Stacked Masked Symbol (also Reel 5).
Plus a few other low-value symbols such as the yellow rose, the dagger and the ruby ring.
Game features of The Phantom's Curse
Masked Phantom Re-spin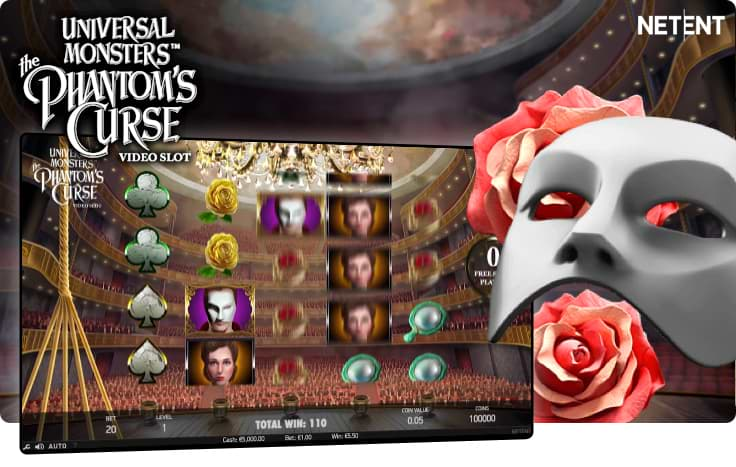 A Phantom stacked on Reel 1 and a Mask stacked on Reel 5 means a Phantom Re-Spin is heading your way. Before the re-spin comes arrives, any bonus symbols in view will be turned Wild and Sticky for that one re-spin.
Free Spins feature
Three Chandeliers, one on each of Reels 1, 3 and 5 and it's free spins time. But not just any free spins. These come with a twist very much in the spirit of the game's theme. So what happens is that there will be a rope next to each of the five reels and the appearance of the Phantom symbol on the reels will see a section of that rope being cut. When all five ropes are cut, the round comes to an end but not before you have plenty of chances to cash in.
That's because the Phantom is also the Wild Symbol. So when he appears he cuts the rope but he also gives you a helping hand by turning all Masked Phantom symbols into fully stacked Masked Phantom symbols for the next spin.
The slot has an RTP of 96.57%
Pick-and-click bonus game
Love always finds a way to prevail and when the double-stacked Phantom appears on Reel 1 and the double-stacked Christine on Reel 5, their amorous meeting leads to…the pick and click bonus game. In the first stage of the game you need to pick from eight different roses. Some have a coin win, others will have an X next to them. All coin wins are banked while the X symbol takes you to stage two.
Here you need to pick from one of three mirrors. Each of them will have a Multiplier behind the mirror which when revealed, will be applied to your coin wins from the previous round.
Verdict of Universal Monsters: The Phantom's Curse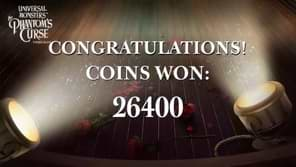 Lots to like here in terms of the theme and the appearance of it all and the three different features add some spice to the mix. But you can get bogged down a bit by a few too many small wins that don't really boost your bank; though a decent trip to the free spins round or the pick-and-click bonus can change all that, should you be fortunate enough to activate one of those.