We are happy to check out this new Artemis vs Medusa slot, by the game provider Quickspin. The game is launched on August the 11th of 2020.
It draws its theme from ancient Greek mythology (there are many other games with an ancient Egyptian theme, see our catalogue of slot machine reviews), specifically, the ancient famous and sometimes brutal rivalry between the two goddesses, Artemis and Medusa. They battle it out inside the rows and reels.
In this Artemis vs Medusa review, we found out that this game has some very interesting features. For starters, there are exactly 1,024 possibilities to win on this slot.
The game uses a proprietary system similar to others out there but at the same time different in its features to make this slot magic happen.
Artemis vs Medusa Technical Features
We also looked at the technical features of this brand new slot in our Artemis vs Medusa slot review. We have already mentioned the 1,024 win possibilities available.
Upon further investigation, we have also found out that the maximum win recorded with this slot was 5,286 times the stake. This is of course very hard to achieve in normal gameplay.
The minimum bet is £0.20 and the maximum is £100. There are five reels intersecting with four rows to form the 1,024 paylines mentioned above.
This is among the more volatile slots out there, clocking in at a very high 4.4 out of 5 on the volatility scale. If you have an appetite for volatility and complexities, this is your slot.
There are 11 regular symbols:
Low-paying symbols: coloured diamonds.
Medium-pay symbols: Medusa, harpies, minotaurs and gryphons.
Wild symbol: golden antler.
Getting Artemis five times gives you the stake x 25.
Artemis vs Medusa Bonus Features
Monster Bounty Coin
The medium pay symbols all have a chance to be paired with a Monster Bounty Coin in the main game. These coins combine with the Artemis symbol if it appears anywhere on the last real to generate a payout.
This payout is anywhere from 2x to 15x the stake, per coin in play, depending on the monster in question.
Unlimited Battle Free Spins
The Unlimited Battle Free Spins bonus feature is the most interesting part of the game. This is where Artemis does battle with the monsters in the game, and it is triggered by 3 scatter symbols.
During this phase, whenever Artemis appears, the monsters in view are added to the meter. But also, each Artemis that appears collects a bounty.
Theme and Design
Rather than go for some cheesy cartoony Ancient Greece type design, Quickspin has decided to go an alternate route. The design is very fresh and combines traditional images with a sort of celestial outer space type design.
The design is pleasant, over extended periods of gameplay. We especially liked the constellations representing Artemis and Medusa in the background.
The presents a nice contrast to the eye while at the same time serving as a great background for the playing field. Our only slight complaints would be that we would perhaps prefer more sharpness to the images.
That, and the bottom section where all the relevant numbers appear could perhaps be better integrated with the rest of the slot.
From Medusa to Pegasus: Immerse Yourself in Greek Mythology through Slot Games
Unleash the power of ancient legends and immerse yourself in the captivating world of Greek mythology with our remarkable collection of themed slot games.
In Divine Fortune by NetEnt, you'll encounter majestic creatures and divine riches as you spin the reels in search of legendary treasures.
Face the haunting allure of Medusa in NextGen's Medusa slot, where her gaze could either grant you enchanting rewards or lead you on an exhilarating adventure.
Traverse the captivating narrative of Troy in IGT's Treasures of Troy slot, where heroes and riches unite in an epic saga of spins and wins.
Soar through the skies alongside the magnificent Pegasus in Blueprint Gaming's Pegasus Rising slot, and experience the thrill of untamed potential with each spin.
Channel the elemental fury of the gods in God of Storms by Playtech, where tempestuous winds guide the reels towards monumental fortunes.
Immerse yourself in these spellbinding tales of Greek mythology and uncover the riches of ancient civilizations.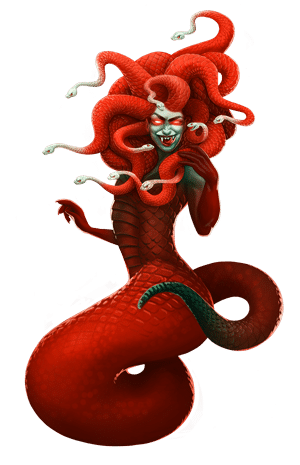 On the main, we really like this new game. Playability is awesome, the graphics are smooth, and the gameplay is well-thought-out. We also feel the game manages a nice balance between complexity and simplicity. It should be noted that this is definitely a high volatility game, so this game will appeal much more to those who like that type of slot.
What we most liked about Artemis vs Medusa is the exciting bonus round available. This is a great way to rack up those winnings, and it certainly adds to the excitement element of this game. This is something that has been present in other online slots we have seen before, but Quickspin puts a new twist on it.