Star Clusters Megaclusters™ is a brand new video slot by Big Time Gaming under their revolutionary Megaclusters™ gaming engine. The slot machine was launched in June 2020 and the first one to use this concept which is characterized by cluster wins that disintegrate after formulating winning combinations.
The mobile slot gives players the opportunity to get up to a maximum of 256 combinations, trigger unlimited multipliers and win a high prize of up to 23,000x.
The Megaclusters™ mechanic has transformed the cluster payline system into a completely new level of game-play and entertainment.
With a little touch of the provider's magic, a fresh type of mobile slots has been created that is about to take online gaming to a higher level.
In this review, we will be analyzing the technical features of the Star Clusters Megaclusters™ slot and how this new concept from Big Time Gaming works. We will also look at the slot's bonus features, its themes and presentation.
Star Clusters Megaclusters™ Technical Features
This slot incorporates cluster pay lines with multiple symbols. A 4 reel x 4 row grid is initially available but this can increase up to 8 reels and 8 rows.
Star Clusters RTP rate is set at 96.54% which is actually higher for a slot.
Winning combinations normally happen in clusters after landing 5 or more symbols matched in a group. When you get a winning combo, the symbols will disintegrate into even smaller symbols helping you to win even more.
When wagering, you can do that with a minimum of £0.20 and a maximum of £20. As a result, this will unlock the entire available game area. The slot has a medium to high variance, so you will land smaller wins more frequently.
Bigger wins will always emanate from the Free Spins and Gold Wild Multiplier features. The maximum win is about 23,960x stake in a free spin while the potential win of the base game is about 14,407x on the total amount.
Low-value symbols paying from 0.1x, up to 20x
Premium symbols paying from 25x up to 50x
Star Clusters Megaclusters™ Bonus Features
Free spins feature
When you land five or more matching symbols in the base game, the Free Spins feature will be triggered. You'll be awarded two free spins plus an extra spin for every reaction above the 5th.
For example, if you get eight reactions, you will start with 5 free spins. Furthermore, if you have a Gold Wild Multiplier, it will be transferred to the Free Spins feature.
Each time this particular multiplier gets to a multiple of 10, two additional free spins will be awarded.
Bonus symbols
The game has a total of 9 bonus symbols. There are four low-value symbols represented by yellow, light blue, green and orange gems as well as three premium symbols represented by red, purple and blue gems.
The symbol which pays highly is the purple gem with a payout of up to 50x. Additionally, there is a gold rainbow and a rainbow star wild symbols. Regular wilds normally substitute for all the symbols except gold wilds.
However, Gold wilds can substitute for all the symbols.
Star Clusters Theme and Design
Big Time Gaming has kept the design and theme of Star Clusters slot game fairly basic. It is also very simple when we talk about the overall presentation. There is no much detail found in the slot's yellow-coloured background.
However, the interface has a vibrant and bright look, with a population of symbols made up of an assortment of gemstones of different shapes. Moreover, the jewels are also in various colours. You will see purple, red, yellow, blue, orange, turquoise, and green gems.
The simple background of the game gives it a cosmic effect.
Visually, there's plenty to excite your senses with an eye-catching reel-set attributed to the colourful choice of gems. There are also some great sound effects including classic synthpop and electronic music, plus some popular catchphrases.
If you are a player on the move, you will obviously be delighted by the HTML5 technology integrated into the mobile version of this game. The slot's simple graphics work efficiently even on smaller mobile phone screens.
Other slot machines with gems symbols
If you like jewellery, these slots may be for you ?
Star Clusters Megaclusters™: brand new mechanic for potential big wins
We have always relied on Big Time Gaming to unleash something fresh and unique, and they have again delivered a special product that offers great entertainment. We confidently know that you will get to appreciate the great innovation that went behind the creation of Star Clusters Megaclusters™.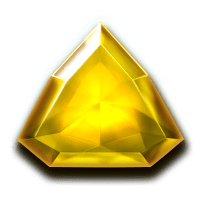 It is a brand new one under a brand new mechanic. It is definitely destined for popularity among players because it combines potential big wins with medium to high volatility.
With the Star Clusters slot game, you will definitely be eager to try it out because it provides an amazing game-play. As the bonus symbols disintegrate within the grid and the multipliers increase, it will be hard to remove your focus off the game.
It gets even exhilarating when you trigger the free spins to roll in something that is truly epic. Furthermore, with the winning ways being increased and bonuses coming in thick and fast, everything will get thrilling with this slot.