Baron Samedi offers 36 different features
What you will find on this page :
hide
Baron Samedi – game overview
Forgetting about the Collection Cards for just a minute, this is a pretty traditional slot in terms of structure with the reels in a 5×3 format and 25 active pay lines.
A remarkably scary Voodoo priestess acts as the Wild and substitutes for any other symbol while the other symbols are no less likely to keep you up at night with fear. They include a green and a brown voodoo doll and Brijit, who is Baron Samedi's wife. Yeah, Voodoo witches and sorcerers get married, too.
Then of course there's Baron Samedi himself. If you think you may have heard the name before, it's because he was featured in the James Bond film 'Live and Let Die' but students of the Voodoo religion will know him better as the Head of the Guédé family, which symbolizes death and fertility. He has a taste for wearing a top hat, sunglasses, a black tailcoat and presumably… casting evil spells on enemies. Now you know.
As you'd expect from any Yggdrasil slot, you can adjust your stake so that it suits your preferences, use the Autoplay function so that you can play a pre-determined amount of spins and…turn the sound effects down if the ominous drum-beating gets a bit too much for you.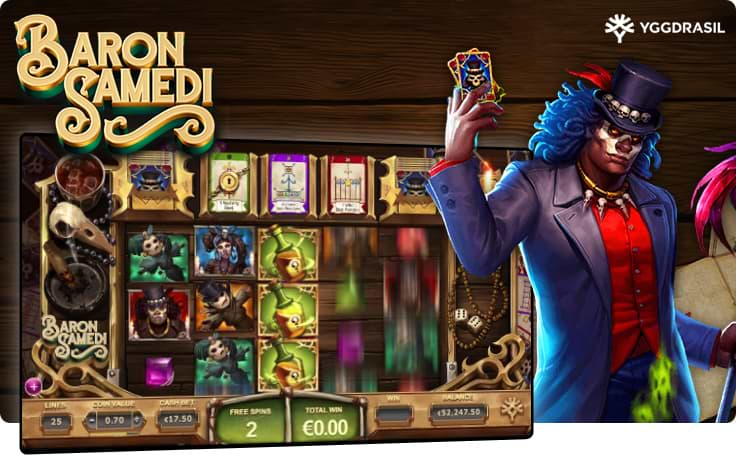 Game features of Baron Samedi
Card collection Free Spins
At the start of the game you'll be dealt a load of cards that will sit in the card holder in the top right of the screen labelled 'Collection'. The cards are divided into strength levels with I being the weakest and IV being the strongest. At Level I you need 50 of those cards to fill the collection, at Level II it's 40, at Level III it's 20 and at IV it's 10. When the cards are dealt and adequately archived, you'll see you'll have a lot more weaker cards than stronger ones because quite simply, they're rarer.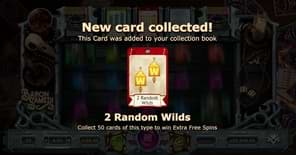 Once you've completed the collection, you're ready to play the Card Collection (3) Free Spins. The card that activated this special free spins round will be locked in place for all of the three spins while two additional cards are drawn ahead of each spin. It's a pretty long list for what that all-important first card could be but the rewards on offer can include: adding a Multiplier between 2 -10x to your win, adding 2-8 random Wilds to the reels or adding 3-9 mystery symbols to the reels.
Voodoo Respin
This one's much simpler. Get two Scatters (the Free Spins symbol) and you'll get one respin. But not before three cards are randomly awarded to you which sit at the top of the reels. Whatever three cards are kept there, will be applied to your respin. That could be anything from a guarantee of a certain stacked symbol to a Multiplier added to your respin win.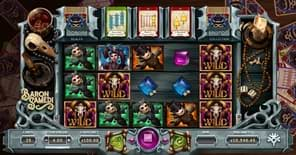 Free Spins
If instead of two Scatters you get three, then you activate the free spins round. Three gets you seven free spins, four gets you 12 and five Scatters get you 15 free spins. Before each free spin, three new cards are dealt, seriously increasing the winning potential ahead of your next spin.
Baron Samedi has an unusually RTP of 97%
Verdict of Baron Samedi
If the whole card collection business is a bit confusing, just ignore it. When your time comes, you'll get to reap the benefits of them whether you truly get your head around it all or not. Which you probably will anyway after a healthy number of spins.
Aside from all that you've got a slot that's marched into unchartered and somewhat controversial territory that's as fun to play as it is creative and entertaining in terms of its design, complete with the cigar burning away and a hefty dose of rum sitting in a glass, both to the left of the reels.
Add in a pretty generous RTP of 97% and if for curiosity alone, this is certainly one to give a go.
Baron Samedi: Let the magic begin
Fair play to Yggdrasil for exploring a theme that has very rarely come up in the past when it comes to online slots: Voodoo magic. It won't be everyone's cup of tea but then again, with so many new slots being released on a monthly basis, it's nice to see something completely different once in a while.
They also get plenty of brownie points for the attention to detail that goes into really bringing the Voodoo religion and some of its artefacts to the game, meaning the research team at Yggdrasil really earned their corn.
As far as the game itself goes, there's a bit of a danger that a player experiencing it for the first time may be feel a bit overawed by the whole experience and especially the dealing of the initial eight cards. Worry not.
The player doesn't really need to understand in minute detail what all the cards mean nor worry about what they do as they keep on spinning; bonus rounds come in other forms anyway.
Meaning you're left with a quirky game with two main bonus features played against a truly scary backdrop where you're just hoping the magic works in your favour, rather than against you.