Slingo Riches Review: Thrilling & groundbreaking innovation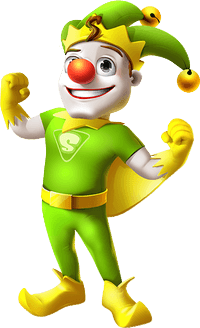 Slingo Riches is an incredible new gaming experience that combines slots and bingo for a fast-paced gameplay that gives you a chance of using a strategy to get bigger wins.
You spin slots to get numbers on the reels. When the numbers match those on the bingo card, you mark them off with the aim of filling paylines. The more paylines you have, the more the winnings increase up to a £20,000 Full House.
Slingo is very likely to change the way we think about slots in the future. Don't be put off if you're a fan of bingo and not slots (or vice versa). This is a whole new way of playing, with endless fun possibilities to win!
| | |
| --- | --- |
| Developer | Slingo Originals |
| Max win | £20,000 |
| Max bet | £100 |
| Features | Free spins |
What you will find on this page :
hide
Bingo + slots = Slingo
The whole is more than the sum of its parts. And Slingo is more than a bingo slot. It adds an element of strategy that lets you combine the random result of the spin with mastery of the game.
It may seem daunting, but it's incredibly simple. And the more you understand how it works, the more you'll enjoy playing it… and the better your chances of working your way up to a big win.
We like Slingo Originals so much that we made an in-depth introduction to Slingo, with reviews of different variations of the game.
Gameplay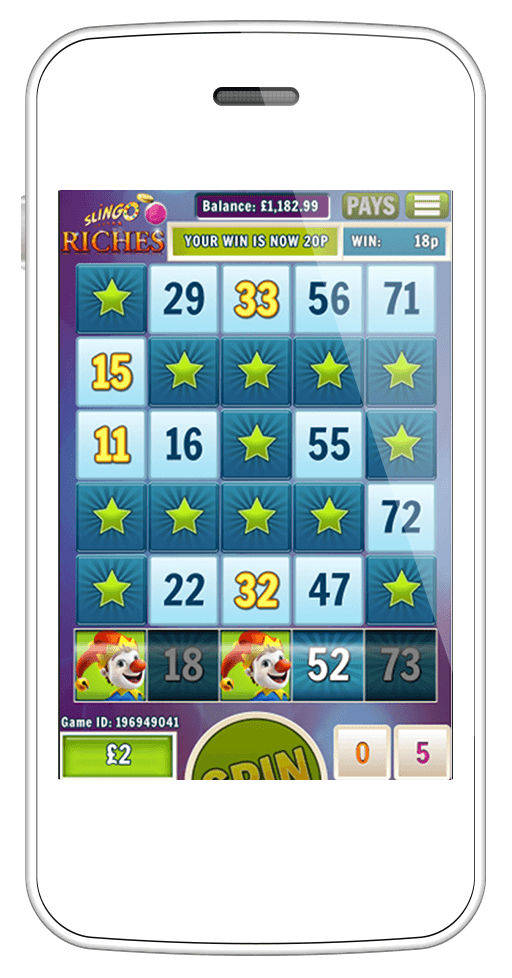 The game is played with 25 numbers on a card and a slot of five reels and one line at the bottom. Every spin of the reel yields a new combination of numbers. Whenever the number on the reel matches a number on its column, you mark its place on the card with a star, just like in bingo.
But here's the thing: you have 11 base spins with a single initial wager, plus an additional 4 spins:
Free spins: you win them when they appear on the reels
Extra spins: you buy them for different wagering amounts after you run out of base spins
The cost of each extra spin increases the closer you get to completing the full house. So be careful! Because it's easy to get over-excited and chase losses thinking that if you finally land a big win, you'll win more than what you've wagered.
It's important to remember that you can't get more than 4 spins after you finish the 11 base spins. So if you win 3 free spins during the first round, you'll only be able to buy 1 extra spin.
Try our free Slingo Riches demo before you play for real money!
Features
There are several features that show up randomly on the reels. Let's take a look at them so we know what we're talking about when we start talking strategy:
| | |
| --- | --- |
| Feature | Effect |
| | Instant cash prize |
| | Mark any number on the line |
| | Mark any number on the board |
| | Blocks the numbers on the line from being marked |
| | Additional spin after you finish the base spins |
Three Jokers on the reels will get you a Joker Bonus cash prize.
Slingo strategy
The key to Slingo is to use the jokers properly. But it's important to remember that the results are always random, so you are not in control of whether you win or lose.
As a rule of thumb, you want to cover the center square first, followed by the corners, to increase your chances of getting a diagonal, a horizontal and a vertical payline with the lowest possible number of spins. This applies when you don't have any stars on the board.
As soon as you start marking numbers, you want to use jokers to get as close as you can to filling a single line. So it's best to place them on whatever line has the most stars on it.
You'll want to choose the square on the line that increases the chances of getting more than one payline. So if you have a horizontal line with 3 stars that crosses with a vertical line with 2 stars, you'll want to use the joker to mark the number where they intersect.
If you're lucky, using jokers wisely can lead to huge winnings.
Where to play Slingo at online casinos
Only one online casino has Slingo in the UK… and it's one of our favourites: Play OJO!
I've reviewed Play OJO for this site before, and we love it for how it takes care of players.
The casino is fully licensed by the United Kingdom Gambling Commission (UKGC), which means they meet strict legal requirements of safety and reliability, and their games are subjected to testing for fairness.
Most importantly, I can say that I've always had great experiences playing their games. Their account management system is user-friendly, their player support services are top-notch and they take responsible gaming very seriously, so it's easy to manage your limits and stay on top of your game.
Click on any link on our site to claim an exclusive welcome bonus when you register at Play OJO to play Slingo Riches!