Dragon's Fire MegawaysTM opinion: High Potential that fails to deliver
On the surface, Dragon's Fire MegawaysTM slot would seem a game with lots of payout potential. The artwork and soundtrack are phenomenal, and the game is packed with several possible features. However, after a few hundred rounds of play, I was surprised at how miserly the payouts were and how ineffective the features were. I slowly saw my balance drift towards zero. Remember that this slot is very high volatility, so be prepared to play with a higher bankroll if you want to play longer. I found the best chance of winning anything noteworthy was in the extra spins. Even then, the best I could do was collect about 30x my total bet. Dragon's Fire MegawaysTM had the makings of a good game but falls shorts.
Dragon's Fire MegawaysTM is a very high volatility slot from Red Tiger.
High volatility gameplay
Released on August 2nd 2019, Dragon's Fire MegawaysTM is a high volatility slot from Red Tiger Gaming. Play it on 6 reels and up to 7 rows with 117,649 MegaWaysTM. Features include the Fire Blast, Dragon's Egg Multiplier, Dragon's Eye Boost, extra spins, Dragon's Kindness and Gamble Wheel. The slot has a maximum payout of 10,470x total bet!
Dragon's Fire Megaways: Breathing fire
Red Tiger breathes life into Dragon's Fire MegawaysTM with beautiful and colourful graphics and sound effects that invokes a feeling of wonder and intensity. The top-paying symbol resembles a dragon's eye that will award up to 50x with six symbols forming a way win, and it will reward 1x with as little as two symbols. There are also four different dragons: gold, red, green and purple. A corresponding coloured egg matches each of these four dragons. An animated dragon accompanies the reels and participates in some of the features.
MegawaysTM
The MegawaysTM is a feature licensed from BTG where the reels can randomly expand up to 117,649 ways to win and is played on a 6×7 grid.
Fire Blast
In the Fire Blast feature, the dragon to the back of the reels will breathe fire setting ablaze up to three of the reels. When the fire burns itself out, up to 4 wild symbols may be revealed on each of the reels. If only two reels are ablaze, the Fire Blast will uncover two extra spins symbols for the chance to trigger the extra spins feature.
The slot has an RTP of 94.68%.
Dragon's Egg Multiplier
The Dragon's Egg Multiplier is a win multiplier which is progressive and increases on each successive win up to the maximum of 50x. The win multiplier resets back after a non-winning round. During the extra spins, the multiplier is always active. If it is active when the extra spins are triggered, it then carries over into the extra spins and serves as the starting point. From there it will continue to build but does not reset on a non-winning round.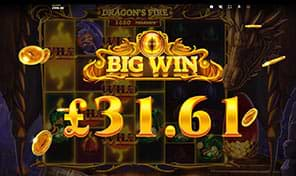 Dragon's Eye Boost
The Dragon's Eye Boost may be randomly triggered on any win and increase the value of the dragon eggs multiplier by up to 10x.
Extra spins
The extra spins are triggered with three extra spins scatter symbols landing on the reels. When triggered, we have the choice between three dragon symbols which conceals a total number of extra spins. In the game, the Dragon' Eggs Multiplier does not reset after a non-winning round. Furthermore, winning symbols ignite in flame, leaving gaps which are filled by new falling symbols while increasing the Dragon's Egg Multiplier.
Dragons Kindness
If the dragon is feeling particularly generous, then we will receive the third extra spins symbol to trigger the bonus game.
The game includes extra spins, Dragon's Egg win multiplier, Fire Blast, Dragon's Kindness, Mega Wheel and Dragon's Eye Boost.
Gamble Wheel
Triggered on a win of more than £0.10, the Gamble Wheel feature has an RTP of 95%. In this game, we can adjust the potential gain, which conversely reduces the probability of winning. The object of the game is to spin the wheel and have the needle land on the green area.
Dragon's Fire Megaways from Red Tiger with up to 10,000x bet
Dragon's Fire MegaWaysTM is an up to 117,640 ways to win high volatility slot with extra spins, Dragon's Egg, Fire Blast, Gamble Wheel and Dragon's Eye Boost.