Gonzo's Quest Megaways™ slot is a Megaways™ version of the iconic Gonzo's Quest video slot launched on July 23, 2020, by NetEnt and Red Tiger Gaming, the duo are giving us a remake of an already very popular slot machine.
The game has up to 117,649 pay lines and 6 reels, each displaying up to 7 symbols. The maximum win is 21,000x and the stakes range from £0.10 to £10.00.
This Gonzo's Quest Megaways™ review shows that the game has exciting features, such as the Free Fall feature with up to 15x multipliers, the Earthquake feature where up to 7 high-value symbols appear and it also has the unbreakable wilds.
The slot also gives a chance to players to make free spins with many ways to win money.
Technical features of Gonzo's Quest Megaways™
Gonzo's Quest Megaways™ slot review has several technical features added to it such as the avalanche and multipliers.
The slot has 6 reels each displaying 2 to 7 symbols and 6 bonus features. It has a turbo spin feature spinning the reels faster. The game is characterized by intricate symbols and it offers up to 117,649 pay lines.
The slot winning rate is much higher than other Megaways™ slots. The winning range is £0.10 to £10.00 as one can stake as low as £0.10 per spin. Players can win a maximum of 21,000x per spin. It is not easy to make big wins as it is a medium to high variance.
The symbols are mostly inspired by the Mayan culture by animals such as snakes, alligators, birds, fish, moon, earth, and fire.
Every win makes the animated Gonzo perform moonwalk dances.
Gonzo's Quest Megaways™ Bonus features
Bonus Symbols
There are several new symbols and bonus features that have been introduced.
The symbols are mostly inspired by the Mayan culture and theme which include: low paying symbols represented by animals, the question mark represents the unbreakable wild, the mask represents high paying symbols and the scatter representing the Free Fall symbol. These symbols are represented by each feature.
Bonus Game
The Gonzo's Quest Megaways™ slot has 6 bonus features and a player can get from 9 free spins to unlimited.
Each bonus feature displays up to 7 symbols most of which were used in Original Gonzo's quest slot. There exist free spins that are triggered with 3 or more scatters and each scatters results in 3x more spins.
Theme and Design
The theme and design of Gonzo's Quest Megaways™ are featured with flute music, animation of Gonzo, and other symbols that include low-value animals with a suspenseful drumming sound effect.
The design is characterized by brilliant bright colors evenly spread. Based on the Mayan theme it is about searching for the lost city of gold deep in the jungle.
Through a spectrum of muted earth colors, Gonzo's Quest Megaways™ comes alive. The game is sprinkled with different Mayan inspired masked faces giving players an exciting experience.
The slot game is characterized by sound effects that evoke mystery. The animations in the game give the best first impression. The graphics enhance the effects of the earthquake and avalanche features recently introduced.
Discover more great Megaways slots
The LadyLucks team has written many other Megaways slot reviews, here are 3 examples that you might like ?
Gonzo's Quest Megaways™ review: an excellent remake!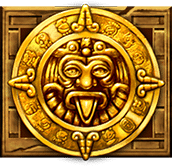 The new Megaways™ slot has received a great response from the fans of the original iconic Gonzo's Quest Megaways™ as it has kept the best features of the original version while adding new features. This game is worth watching by those who have been fans and those who missed the original version as it is one of the best Megaways™ slots.
The new version of Gonzo's Quest Megaways™ has increased engaging experience, enhanced visuals, sounds, animation, and graphics. This slot is interesting and for those who want to make real money, it has up to 117,649 ways to win. Megaways™ slot is still the gamers' original Gonzo giving you a chance to gamble for free spins.