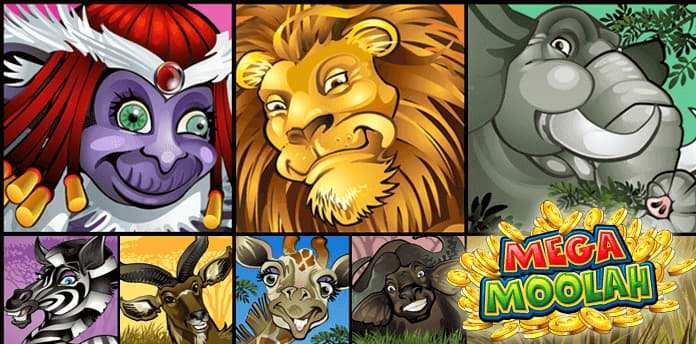 Mega Moolah holds title for largest progressive jackpot slot ever
Aug 12, 2019
Mega Moolah from Microgaming is a progressive jackpot slot.
Mega Moolah from Microgaming is one of the most globally recognized progressive jackpot slot games in existence. It has survived the test of time since it was first released to the world back in 2006. This fun, African animal kingdom themed slot features a x2 multiplier wild, free spins with x3 win multiplier and of course its most famous feature of all – a progressive jackpot Bonus Wheel. This high volatility slot has been optimised for mobile, tablet and desktop. It is typically available as an instant version though it may also be available as a download version.
What you will find on this page :
hide
The Mega Moolah Bonus Wheel
The Bonus Wheel in Mega Moolah is where it is possible to randomly trigger one of the four progressive jackpots. These are the Mini, Minor, Major or Mega. While the chances are slim, they do improve as our bet level rises. The one that we'll want to win is definitely the Mega progressive jackpot!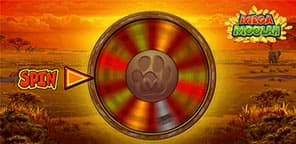 Payout statistics
The Mega Moolah progressive jackpot has had a fabled history when it comes to payouts. For the first 6 months of 2019 alone, 59+ million has already been paid out, spread out over 7 wins with an average payout of 8,841,496.97. No other slot game has even come close to this amount. On average, the jackpot is won every 38 days with a payout of £6,107,855.21. These jackpots have been won in a number of different currencies including GBP, CAD, USD, AUD, ZAR and NZD.
For 2019, the jackpot amounts continue to defy gravity. On January 30, 2019, a player triggered a CAD$20.06 million win. This was followed by a USD$12.9 million win on March 5, 2019. There have been a couple of prizes in GDP including one on May 24, 2019, for £5.5 million and another for £3.0 million on June 17, 2019. The history of the dozens of jackpot wins dates all the way back to 2007 and continues going strong!
Jackpot win overdue
With the average payout frequency being 38 days. The last win was only three days ago. It is a Canadian who won CA$5,954,437.97 (£3,7 million). It had been 54 days since the last payout. But this year it happened twice in March and May that the jackpot was won twice in the same month. The current jackpot stands now at about £2.3 million and we are watching with anticipation as the figure climbs by the hour and day.
The game is famous for its mega payouts which have reached millions.
About progressive jackpots
It's important to note that the odds of triggering a progressive jackpot are slim. These are high risk and higher reward games often referred to as high volatility or variance. What this means is that you will very likely need to play with a higher bankroll for better odds of triggering a big win.
🗞 Latest Gambling News
Mega Moolah Jackpot Payout Makes History: First Payout of 2020

Apr 8, 2020

Mega Moolah Jackpot: A Chance To Win £11 Million+

Mar 5, 2020

Upcoming IGT slots (coming soon)

Mar 3, 2020

NetEnt Launches Exciting Community Jackpot System: Starburst Power Pots

Feb 28, 2020
There are 216 others news