Here at LadyLucks we try and do it all for the player. From offering a range of the classic casino games and a host of brilliant slots, we feel we give you the chance to really experience the thrill of the casino.
While playing these games is about having fun, we know you want to win, and what better way to do that than by taking advantage of the bonuses and offers we provide.
What you need to know about Medieval Money
Medieval Money is the place to be for excitement, with five-reels and 20 paylines.
Plus, there are targets and bonuses available on your journey to conquer this slot.
With an obvious theme, the images and colours make this enjoyable to play. But as we touched on, we know it's about winning, so we will detail the great bonuses that make this so appealing.
Take advantage!
The first bonus available is Money Bags Picker which really is self-explanatory. It will certainly allow you to build up your pot and add to your winnings if you are fortunate enough to get this.
Players can also benefit from the Joust Free Spins, which will definitely come in handy as you seek to keep playing and you may trigger more bonuses.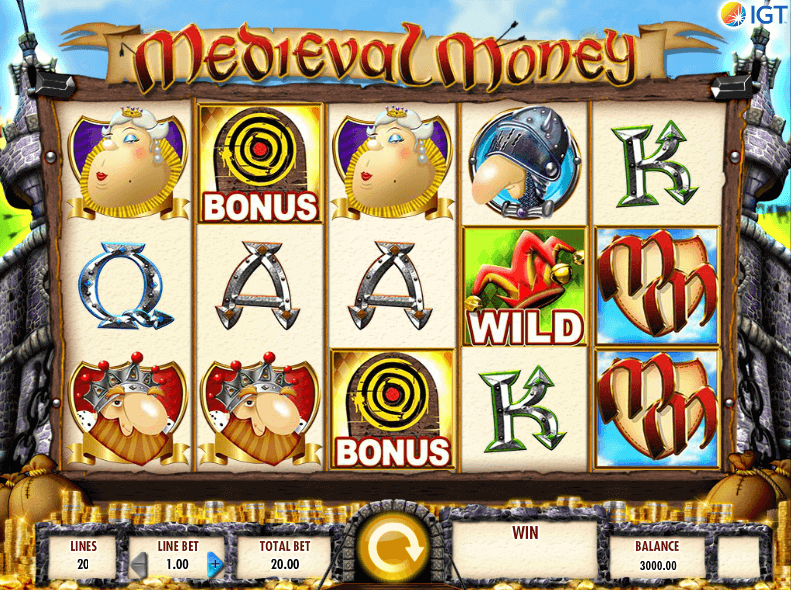 Another bonus is the Spell Picker and it will have the player involved. If you choose wisely you could land a huge multiplier, even if you don't your winnings will multiply, but making the right move could leave you with some serious extra cash.
The final bonus on offer is the Dragons Path Bonus, which sees a wheel spinning as you try and continue your journey. It will be tense as you watch to see where the wheel lands, which will determine your progress.
So, there you have it, as you can see, this is another example of how the players can benefit at LadyLucks. Medieval Money is about you, combining bonuses galore with fun. So check it out, and all our other games. Good luck!