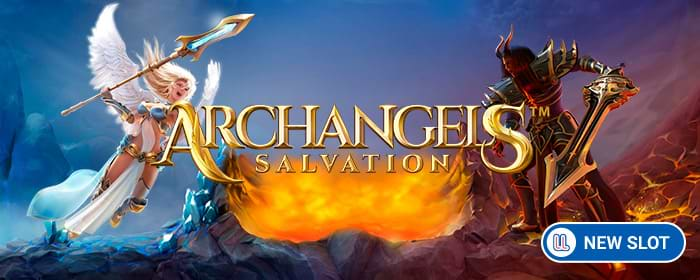 Which side will you choose?
Apr 26, 2018
Do you have what it takes to fight the ultimate battle? If so, you might be just the person for this brand new slot from NetEnt, where an epic fight is about to take place. The archangel who presides over Heaven is striving to bring down the devil – will she be able to defeat the evil forces and bring the world to salvation? Only one way to find out…
Allow the rhythmic music and stunning graphics to transport you straight into this new world – and if six reels and 100 paylines aren't heavenly enough for you, take a look at some of the features up for grabs in this slot. The 2×2 wild, for example, which is a symbol block of 2×2 symbols, activates two features – known as the Heaven and Hell features – by landing in specific 'hot spot' areas at the top and bottom of the reels, consisting of two rows each (and increasing to three rows each during the extra spins round).
During the Heaven feature, a 2×2 wild landing partially in the hot spot area will generate two stacks of wilds, and if it lands fully, four stacks of wilds will appear. A 2×2 wild symbol landing fully or partially in the bottom hot spot area will activate the Hell feature and generate either 8 or 16 wilds, depending on how the wild landed.
If either a stack of wild symbols or a singleton wild lands in the hot spot areas again, these features will be reactivated. Either one stack of wilds or four singleton wilds will appear for each wild in the hot spot.
Finally, keep an eye out for stacked scatters – three or more of these will unlock up to 25 extra spins, depending on how many you collect.
The ultimate battle awaits – play Archangels: Salvation today!
🗞 Latest Gambling News
Mega Moolah Jackpot Payout Makes History: First Payout of 2020

Apr 8, 2020

Mega Moolah Jackpot: A Chance To Win £11 Million+

Mar 5, 2020

Upcoming IGT slots (coming soon)

Mar 3, 2020

NetEnt Launches Exciting Community Jackpot System: Starburst Power Pots

Feb 28, 2020
There are 216 others news