Our new slot game 1421 Voyages of Zheng He will dock soon!
Oct 13, 2016
Our latest casino game, 1421 Voyages of Zheng He, will soon be added to our range of fantastic slots. It's all about conquering those paylines to ensure the biggest bonuses – as inspired by real-life Chinese explorer Zheng He.
What you will find on this page :
hide
Explore the Seven Seas
Not many people have heard of Zheng He, but he was a force to be reckoned with. Born in China in 1371, he was captured by an army in 1381 and entered the service of Prince Zhu Di. Zheng He became a great warrior, and was a commander in a battle that led to Zhu Di becoming the Yongle Emperor and ruling China.
He made seven amazing sea voyages on behalf of his emperor, expanding trade routes and collecting tributes from many different countries.
Zheng He sailed from Nanjing in China to many other countries, taking a huge fleet with him. His voyages read like the best round-the-world trip you could ask for: Thailand, India, Indonesia, the Maldives and more!
His fleets even made it as far as eastern Africa, visiting Mogadishu (the capital of Somalia) and Mombasa (a port of Kenya) on the famous Silk Road trade routes.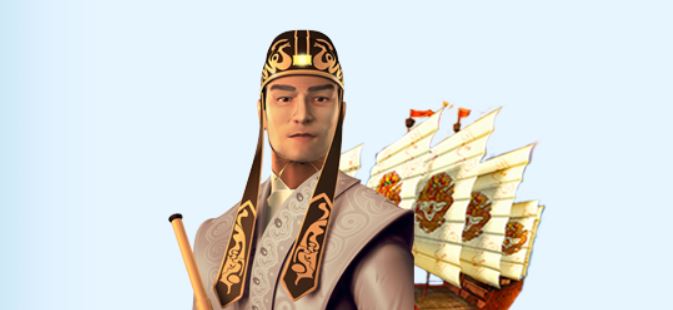 Win big with Zheng He's help
All of Zheng He's voyages had the aim of improving trade for China. He gathered treasure from the countries he visited, bringing back amazing gifts like camels, ivory, and even a giraffe!
Now it's your turn to find the treasure in this engrossing slot machine. Zheng He's voyage in 1421 was awe-inspiring: he visited ports in modern-day Vietnam, Sri Lanka, India, Maldives, Iran, Oman, and Somalia. It also marked his first visit to Bengal, home of wild tigers and powerful aristocrats.
Our new slot game is inspired by these vast Asian empires and Zheng He's brave explorations. Can he help you find the richest paylines and the largest payouts? With a bit of luck, maybe you'll be rolling in treasure too!
Make sure to keep an eye out for this exciting new game at LadyLucks. It's going to be a real journey of discovery – and coming along for the ride could reap some big rewards!