Here at LadyLucks there are many games that you can play. Of course, we have the classic casino options, roulette, blackjack and poker. As well as that, we have bingo and amidst all the fun, perhaps you've missed out on our great slots.
Well you shouldn't, and here's why.
There are many to choose from, but here we will be looking at our two pirate games and the great fun that can be had playing them. Arrr.
Find the prizes on Treasure Island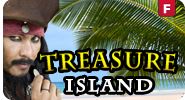 Channel your inner Jack Sparrow for this one, folks. Think like our favourite pirate and you could find yourself winning big with this slot. Thankfully, it is easy to play, with three-reels and 17-lines and a great bonus feature that gets you interacting and hoping for glory.
The paytable will be clearly identifiable and tell you the worth of each symbol, but we know you are only interested in the big prizes and the bonus rounds, so here you go.
Firstly, to get into the bonus game, you need three scatter symbols, then you are ready to go.
Then you will be shown six treasure chests and you will have to pick three, with different prizes in all of them.
Can you pick the right one? If you can you could be walking away a lot richer than when you started!
Win big with Pirates of Chance
When we say big, we mean BIG. Yes, you can get up to £6,000 if you play the right spins on this great pirate slot. I know that grabbed your attention.
This is a five-reel, 50-line slot with free spins and bonuses aplenty.
Getting three of the scattered treasure chest symbols will give you the free spins and set you up on your journey to win the bonus. However, if you get four or five symbols you will be rewarded with more free spins accordingly.
As well as that, bonus spins wins are doubled, so this could be a really memorable game for some of you.
So there you have it, just a little sample of some of the great slots that LadyLucks have out there, and not only are they fun but there are some fantastic prizes on offer. So what are you waiting for? Check out the slots and start with the pirate games! Good luck, me hearties!