Follow @LadyLucks on Twitter today!
Sep 20, 2016
Here at LadyLucks we want to make everything as easy as possible for you. From providing the best table games, to the bright lights of the latest slots, it's about giving you everything, and there's an easy way to keep on top of it all now.
What you will find on this page :
hide
Great place for news
We all know how popular social media is. Whether it's the latest news from around the world, interacting with your friends or keeping an eye out on how your favourite team is doing on a Saturday, social media plays a key part in providing you with instant news.
That's why we've got involved, and you can find us on Twitter @LadyLucks.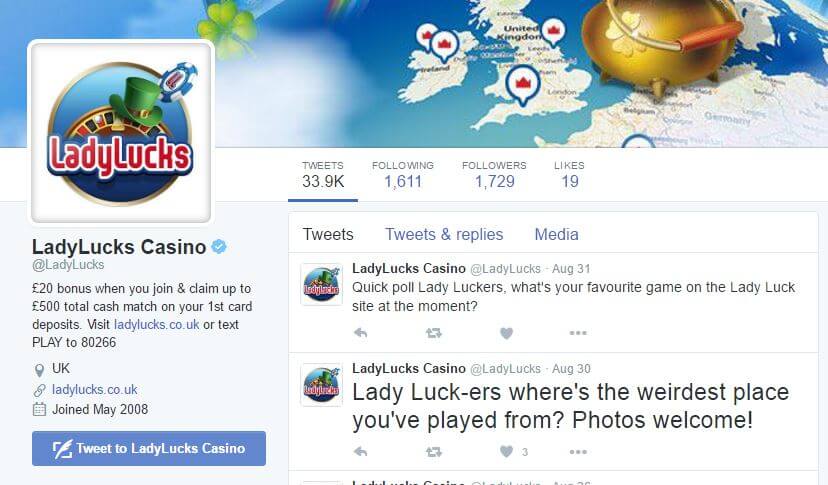 Just type that into the search bar, follow us and you will be kept up to date with all of the goings on at LadyLucks.
It makes life easier
Following us will make life so much easier for you.
That's because it will save you the hassle of looking things up for yourself. If we have a great new bonus that you need to check out on the slots, we'll tweet it.
If there's a new game that you all love, we'll tweet it.
In fact, anything that's going on that we think you need to know about, we'll tweet it.
We also welcome any interaction for any queries you might have, although we can't guarantee to get back to you all straight away! Anyway, you can find our contact details on the website, so if you have any pressing concerns, we recommend going down that avenue but we'll still do our best on Twitter.
Of course, there are other social media platforms where you should follow us too, notably Facebook, just to make sure that you don't miss any little thing.
So, there you go, you may as well log in now and follow us, just so you don't forget! It's a simple way for you to stay on top of all the latest news. You don't want to miss out on any offers or new games – and now, we'll bring all of the news right to you. You're welcome!