Triple Diamond Mobile Slot
Aug 15, 2016
Here at LadyLucks it can often be hard to decide what game to play. From classic casino options to bingo, we have it all and it means you may miss out on some of the great games that slip under the radar.
With our mobile slots and casino games paying out over £10,000 an hour, it's imperative that you see all that we have to offer.
That is why we have to mention our great Triple Diamonds slot, that not only gives you the chance to win big prizes, but will provide you with some real fun and excitement.
Here's everything that you need to know!
How to play Triple Diamonds!
Fortunately, this is a straightforward slot that contains three-reels and nine paylines, giving the player enough variation to record some nice wins. Plus, it should be easy enough for you to grasp and you can find out all the worth of the symbols before you play with the paytable on the screen.
You adjust your bets with the buttons provided which gives you the chance to control your stake and set it out accordingly, depending on how brave you are feeling.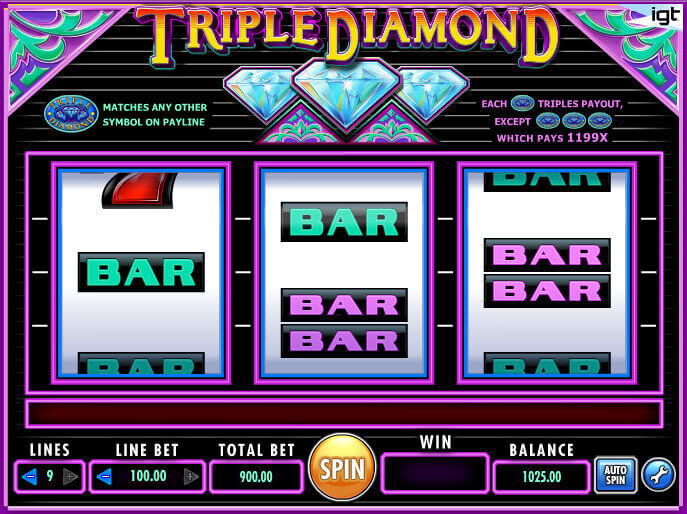 However, with the bonuses on offer it may be worth adjusting that stake!
What are the bonuses?
Well, what makes this game special and standout from the other slots is the bonus feature, notably the Triple Diamond wild multiplier symbol that can turn your modest winnings into serious cash.
If you manage to get your hands on one of them during play, then you could be in for a real treat; that's because it will multiply your wins by up to NINE times the regular amount.
Yep, that's right, the symbol will increase any winnings by anything from three to nine times the original amount and will leave you ending up with a much healthier balance.
Then, for the mammoth prize you could win up to 1,199x the line bet if you end up with three of the symbols.
It may seem unlikely, but someone will get it, so why not you?
You'd need to get the calculator out to see how much that win would get you – that's always a good sign!
So, there you have it. We can think of 1,199 reasons to play this slot, but just the one will do – bonuses! Get involved, get playing and hope you can land the diamond symbols, it will boost your pot by such a significant amount. Good luck!