Horses have been an incredibly important part of our lives ever since man came to be. They've pulled civilisation forward, and without them we wouldn't be here today. Their strength and determination is respected throughout the animal kingdom. That's why IGT have honoured our most powerful ally with their awesome Fire Horse slot.
What you will find on this page :
hide
Feel the heat of the Fire Horse slot!
From the plough that allowed us to sow our seeds, to the cart that transported our wares from town to town, the horse has been a steady rock for thousands of years. This slot is the perfect homage and is ideal for all fans of the equestrian arts.
With 50 paylines and five reels, this slot leaves the players with a multitude of ways to win. Intertwined with a minimum bet of 50p and a maximum bet of £150, while slightly lacking in terms of the top-end bet, this game is accessible for both amateur and high-rollers.
If you're ready to experience the burn of Fire Horse then activate the game from this page, or read on for more information surrounding this thrilling slot.
Gorgeous and mesmerising – the Fire Horse slot never ceases to impress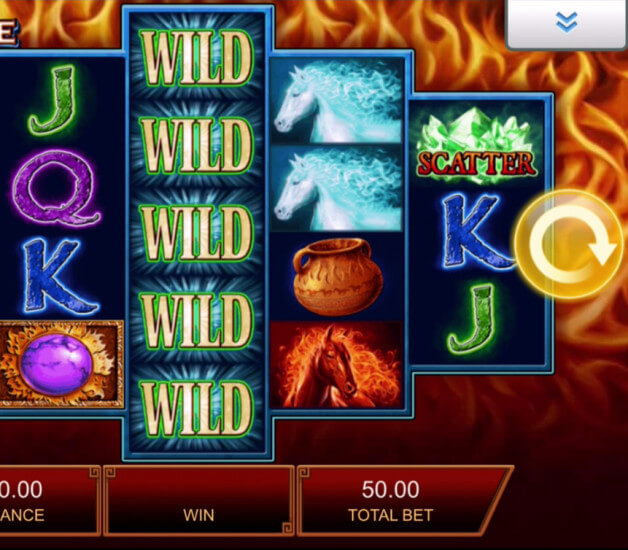 The background is alight with roaring flames, which is no surprise with the title of the slot. While a strange reel structure sits firmly in the centre. The outer reels are smaller, with only three symbols, moving towards the centre where there are four and smack-bag right in the middle where five symbols sit – the same is repeated the other way, finishing again with three symbols.
This is the 720 ways to win format, with MultiWay Xtra spins, which provides you with many more ways to win than a regular slot. Instead of paylines, as long as there are adjacently matching symbols, you will be awarded prizes.
Within these oddly shaped reels are a number of amazing symbols: the white horse, whose icy cool appearance sends shivers down your spins, while the fire horse throws blistering heat right into your face. Then you have the stacks of wilds in the centre, which provide you with the opportunity to score some amazing wins.
The wild symbol in this game is unmistakable, as it's simply an icon with the word 'wild' in huge yellow writing. This symbol replaces any other symbol on the board, apart from the bonus symbol – a purple broach surrounded by golden leaves – which triggers up to a maximum of eight free spins. These spins can of course be re-triggered by landing the blue broach during the bonus game.
So, there you have it. With a great theme, notable images and fantastic bonuses, go and enjoy this slot.